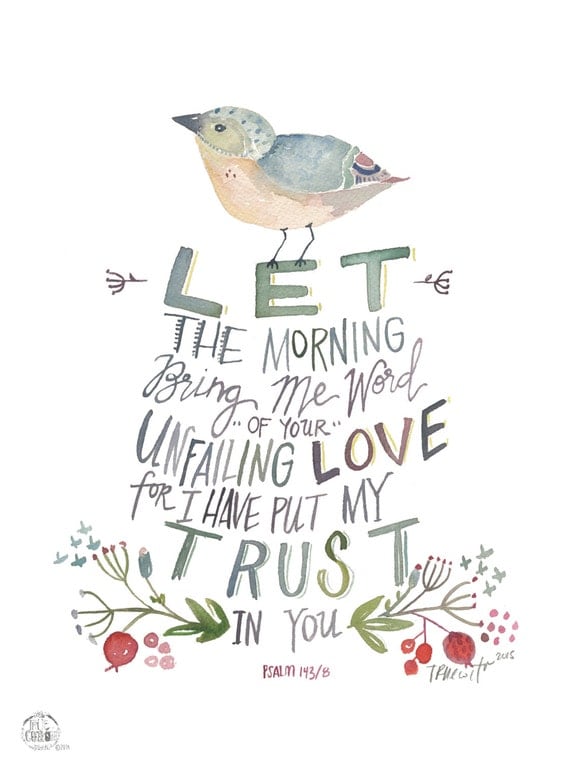 Choosing to trust in God is tough. When times are confusing, disappointing, heartbreaking, making the choice to believe He has control, that He is making all things beautiful over time despite the ugliness surrounding us, is the most challenging task to take on. It is our choice of course, it is on us to say regardless of what our world looks like we believe in His purpose, in His plan, in His word.
It's when grief seeps in and tosses around those dormant thoughts and emotions that we feel utterly lost and horribly out of control. We wake up either torn up on the inside, or completely numb, morning after morning. Our soul cries out because our mouths can't find the words, and we wait for Him to bring some kind of comfort, some kind of healing for these wounds eyes can't see.
To everything there is a season…
My friends, my family, my community lost a truly amazing man of God a few weeks ago in a sudden accident. His life was cut shorter than most at the age of 32; he was called home quicker than we would have liked. And as everyone has moved forward with grief on their shoulders I have watched us wrestle with fear and confusion, ask those heavy questions of why, battle anger and frustration, and grapple with disbelief and shock at the quickness of death. I have watched tears flow, throats close, hands clench, brows furrow, and eyes go vacant as minds wander to a place only God knows. All of this emotional pain seems unable to fit into that tiny word: grief.
My pastor reminded our congregation death was never part of God's original design, He never meant for grief and loss to exist. So, of course we feel robbed, of course we hurt when someone leaves this earth. This is unnatural, this isn't right.
It makes me thank Jesus all the more for giving us a way into heaven, for allowing death on earth to not be finite. We think we know what living is down here, but when we have finished on earth God is calling us into a greater life. A life of complete joy, with no pain or sorrow to speak of. It is through these trials, our shattering, that we have the opportunity to draw even closer to Him. He will remind us of His goodness, He will gently piece us back together and make us stronger than before. And we can hold onto the hope that anchors us to Him, the only one who is able to provide what our soul seeks.
I have watched everyone mourn in their individual ways. I have watched as some seek comfort and strength from God's word. Others are so shattered they can barely utter a prayer, but they're keeping their hearts soft and open to Him. I have witnessed God meeting each person right where they are at. He is our maker and knows exactly what we need and when. It is when we choose to praise Him through the pain that we can move toward healing.
It has been my prayer during this time that the fruit of my friend's life would be seen by many. The love he showed to others, the steadfastness of his faith, his joy in living the life he was given, all of this is such an amazing example of what it means to follow Christ. It was evident at his memorial service he left a massive imprint as overflow rooms filled to the max and hundreds more watched online. So many memories shared of his discipleship, his heart for serving others, and his ability to live in the present. He will not be forgotten, and we can know if we hold fast to God that some day we each will get to laugh with him again.
… and there is a purpose for every time under heaven.